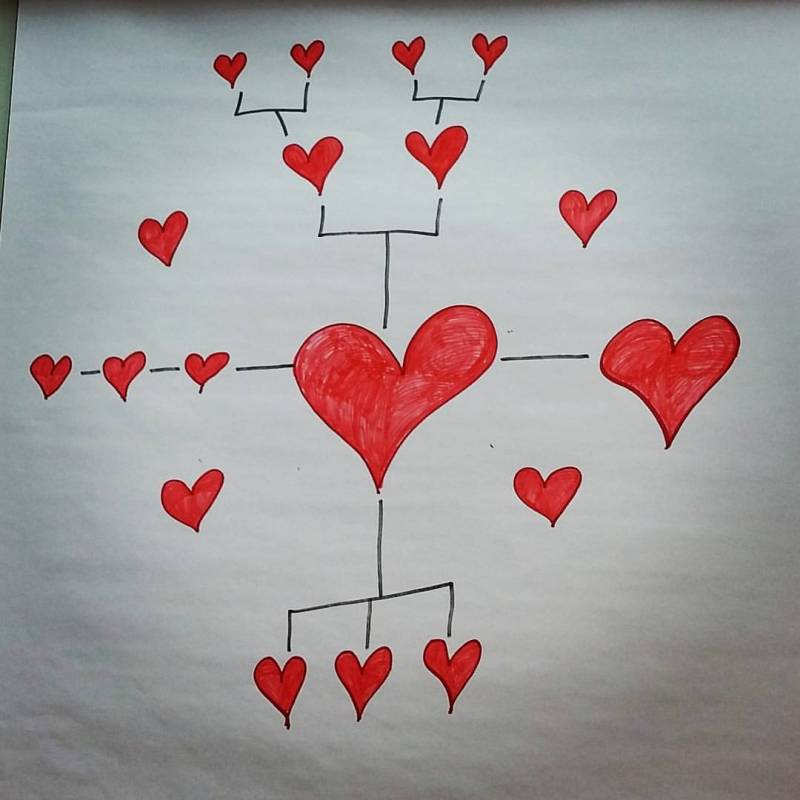 [avatar]
Rakkaus virtaa sisään ja ulos ainakin neljään suuntaan. Ylös, alas, sivulle ja sisään.
Vertikaalinen, pystysuoraan kulkeva rakkauslinja kulkee läpi sukupolvien. Omat vanhempamme ovat heitä aiempien sukupolvien rakkauden tuotoksia. Minä itse olen omien vanhempieni rakkauden ruokkima. Se, miten he ovat minua katsoneet, kuunnelleet, koskettaneet ja hoitaneet, on muokannut suurelta osin sitä, millainen minä olen ja miten minä rakastan muita. Rakkautta saaneena on helppo rakastaa itsekin. Silloin kun evääni ovat puutteelliset, joudun aikuisena opettelemaan parisuhteen perusasioita, kuten toiseen luottamista ja uskoa siihen, että olen riittävä tällaisena. Vastavuoroinen rakkaussuhde antaa onneksi siihen hyvän opettelualustan ja uuden mahdollisuuden.
Olipa vanhemmiltamme saatu rakkaus määrältään tai laadultaan millaista tahansa, tärkeintä on ajatus, että tahtoa ja yritystä siihen on ollut. Että vaikka on ollut vaikeaa ja taidot ja tottumukset hellien tunteiden ilmaisuun ovat olleet vajavaisia, niin vanhempien sydämessä on kuitenkin välkähtänyt rakkaus pientä nyyttiään kohtaan.
Mitä vanhemmaksi itse tulen, sitä enemmän kääntyy virranjuoksu. Yhä enemmän se olenkin minä, joka tekee rakkaudentekoja vanhempien ja isovanhempien suuntaan. Minä, joka olen ollut hoivan ja huolenpidon vastaanottajana, muutunkin sen antajaksi. Siinä rakkauteni virtaa ylöspäin.
Alaspäin virtaava rakkaus on ehkä helpointa ja selkeintä. Rakkaus omiin lapsiin on alkukantaista ja syvää. Tästä rakkaudesta voivat päästä osallisiksi myös muutkin kuin perheeseeni syntyneet lapset. Vanhemman rakkaus lapseen on itsensä syrjään asettavaa, toisen etua huomioivaa, vastuuta kantavaa ja huolehtivaista. Lapsi taas rakastaa vanhempaansa suurella ehdottomuudella ja lojaalisuudella.
Horisontaalinen, vaakasuoraan virtaava rakkaus on parisuhderakkautta. Vierelläni on Hän, minun ihmiseni, johon turvaan hädän hetkellä ja jonka kanssa koen ihanimmat paratiisikokemukset. Nat King Cole laulaa laulussaan Nature Boy: "The greatest thing you'll ever learn is just to love and be loved in return". Niinhän se on.
Horisontaaliselta rakkauslinjalta löytyy myös rakkaus ystäviin. Kahdensuuntaisesti virtaava linja sekin.
Tyhjyys missä tahansa näistä kohdista voi tuntua kipuna, joka kulkee mukana aina. Joskus tyhjä tila voi täyttyä, joskus siihen jää ikuinen aukko. Silloin ihminen kantaa sydämessään haavaa, jota muut eivät näe eivätkä sen kipua ymmärrä.
Sisäänpäin virtaava rakkaus kohdistuu itseeni. Itseni rakastaminen tarkoittaa minulle sitä, että pyrin puhumaan itselleni lempeästi. Haluan hyväksyä epätäydellisyyteni ja antaa anteeksi ne mokat ja virheet, joita joka tapauksessa aina välillä teen.
Tämän kaiken rakkauden keskiössä olen minä. Sekä saamassa että antamassa. Joku minua viisaampi ja suurempi ihminen on sanonut, että tärkeämpää kuin tulla rakastetuksi, on rakastaa itse. (En tiedä, onko hän koskaan kokenut vastavuorottoman rakkauden tuskaa…) Sen tiedän, että rakastaminen tekee ihmiselle hyvää. Se lämmittää ja antaa elämälle tarkoituksen. Rakastaessani olen aktiivinen, subjekti. Rakkaus on niin paljon enemmän kuin vain tunne, se on myös tekoja ja valintoja jonkin itseäni suuremman hyväksi.
Rakkaudellisen elämänasenteen ei toki tarvitse liikkua vain näitä pysty- ja vaakasuoria akseleita pitkin, vaan se voi parhaimmillaan kattaa koko kentän. Itselleni on ollut tärkeä Tommy Tabermannin ajatus "Me tulimme tänne (maailmaan) lyhyelle vierailulle. Jättäkäämme jälkeen siemen, ei haavaa."